Restaurant experience
Our upscale dining experience is located in a partially heritage-protected farmhouse that is over 220 years old.
Well-being, coziness and a casual yet comfortable atmosphere awaits you in our restaurant. Our kitchen team prepares light and fresh dishes with a strong regional influence and seasonal products for both large and small appetites. What makes our offer even more attractive is a Grafschafter menu and a menu for gourmets. Our beverage offer includes a wine list with 220 growths from all over the world.
ENJOY and INDULGE are written in capital letters with us!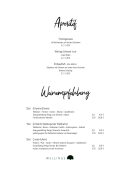 Unsere aktuelle Speisenkarte ab 03.08.2023
Download